400 Years Later
Nov 27, 2020 12:00 · 690 words · 4 minute read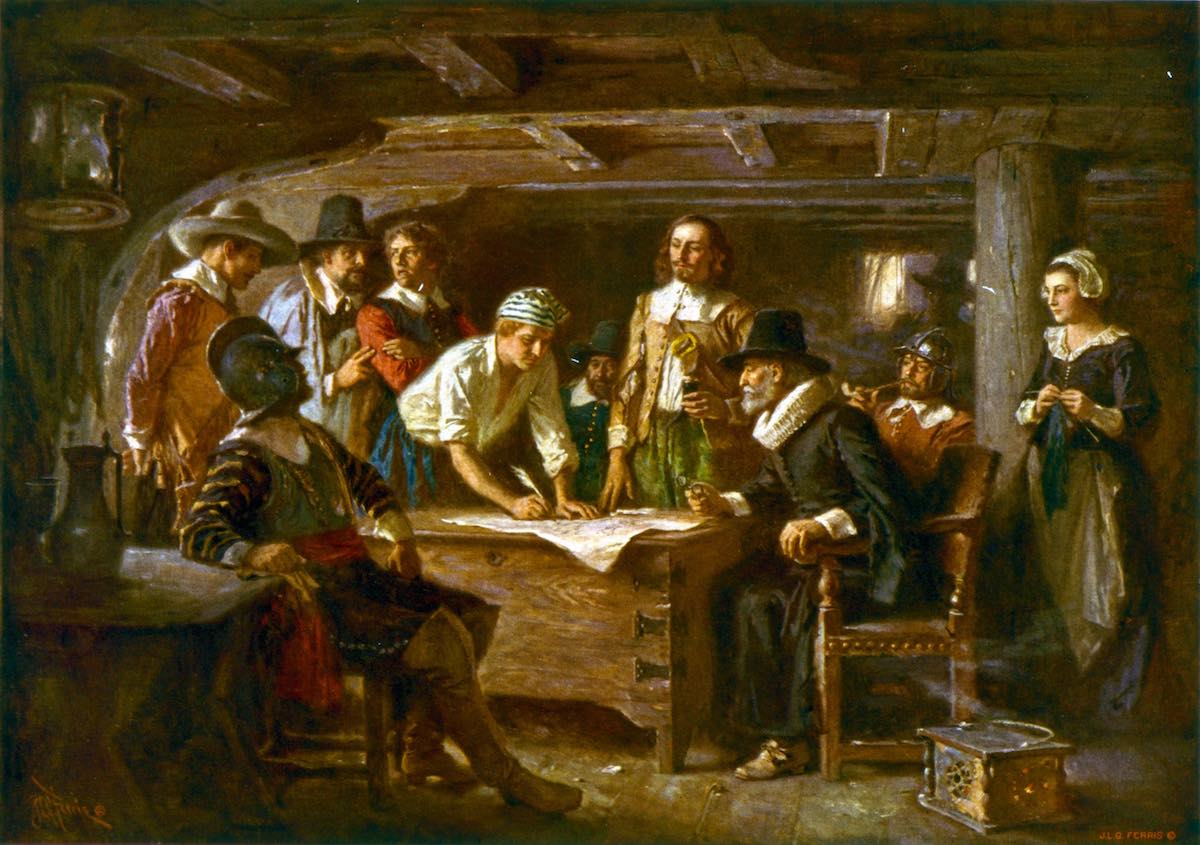 The below document, written four hundred years ago, came to be called the Mayflower Compact. It was signed in November 1620. It formed a government for "advancement of the Christian faith."
Those who prefer non-Yankee history can look to the First Charter of Virginia in 1606. King James, Defender of the Faith, decreed the colony would spread "Christian Religion to such People, as yet live in Darkness and miserable Ignorance of the true Knowledge and Worship of God, and may in time bring the Infidels and Savages, living in those parts, to human Civility."
Another colony on Virginia's James River was established in 1619. The Berkeley Hundred founders decided that the day their ships arrived from England "shall be yearly and perpetually kept holy as a day of Thanksgiving to Almighty God."
Fortunately today America enjoys the service of such great patriots as Justice Stephen Breyer. They are working diligently to rid our nation of such heteronormative, patriarchal, white supremacist, colonialist, and retrograde concepts as freedom of religion and one nation under God.
On Wednesday, a 5-4 majority of U.S. Supreme Court justices ruled that churches must be allowed to conduct services if restaurants, acupuncturists, marijuana dispensaries, and casinos can remain open. The case was brought by the Catholic Diocese of Brooklyn.
Breyer dissented. He said it's perfectly OK for that governors of New York and other states to bypass the legislature and rule by emergency corona-decree. His dissent argued that the state's "administrative considerations" are more important than the right of Christians to practice their faith.
Had Ruth Bader Ginsburg instead of Amy Coney Barrett been on the court this week, Breyer and the anti-constitutionalists would have won. Ginsburg sided against devout Christians in cases including Little Sisters of the Poor, Our Lady of Guadalupe School, and the Bladensburg Cross litigation. She voted with the then-majority in May against a Pentecostal church. That 5-4 decision allowed California's "emergency" coronavirus orders to stand.
If Breyer and his fellow anti-constitutionalists have their way, bicycle repair shops, accountants, lawyers, and laundromats could remain open for business. Churches are far less important. They would remain closed.
The Mayflower Compact formed a government for the "advancement of the Christian faith." We may be forgiven for suspecting that our anti-constitutionalist elites view the new purpose of government as not advancing the Christian faith, or even remaining neutral. The new purpose is to persecute it. It only took 400 years.
---
In the name of God, Amen. We whose names are under-written, the loyal subjects of our dread sovereign Lord, King James, by the grace of God, of Great Britain, France, and Ireland King, Defender of the Faith, etc.
Having undertaken, for the glory of God, and advancement of the Christian faith, and honor of our King and Country, a voyage to plant the first colony in the northern parts of Virginia, do by these presents solemnly and mutually, in the presence of God, and one of another, covenant and combine our selves together into a civil body politic, for our better ordering and preservation and furtherance of the ends aforesaid; and by virtue hereof to enact, constitute, and frame such just and equal laws, ordinances, acts, constitutions and offices, from time to time, as shall be thought most meet and convenient for the general good of the Colony, unto which we promise all due submission and obedience. In witness whereof we have hereunder subscribed our names at Cape Cod, the eleventh of November [New Style, November 21], in the year of the reign of our sovereign lord, King James, of England, France, and Ireland, the eighteenth, and of Scotland the fifty-fourth. Anno Dom. 1620.
John Carver
William Brewster
John Alden
William Mullins
John Craxton
John Howland
John Tilly
Thomas Tinker
John Turner
Digery Priest
Edmond Margeson
Richard Clark
Thomas English
John Goodman
William Bradford
Isaac Allerton
Samuel Fuller
William White
John Billington
Steven Hopkins
Francis Cook
John Ridgdale
Francis Eaton
Thomas Williams
Peter Brown
Richard Gardiner
Edward Doten
George Soule
Edward Winslow
Miles Standish
Christopher Martin
James Chilton
Richard Warren
Edward Tilly
Thomas Rogers
Edward Fuller
Moses Fletcher
Gilbert Winslow
Richard Bitteridge
John Allerton
Edward Liester
tweet
Share